A list of items included in our health kits and why we love them!
Please scroll down for full list of contents and their descriptions.
purifying room + linen mist
Inspired by legend and regarded for its anti-bacterial, anti-viral and anti-fungal properties, The Salve Set room spray is a potent blend of clove, lemon, cinnamon, eucalyptus, rosemary, oregano and frankincense essential oils. We suggest spraying it throughout a room or onto towels and bed linens to boost one's immunity and spirits.
Ingredients: Purified water, clove oil, lemon oil, cinnamon oil, eucalyptus oil, rosemary oil, oregano oil, frankincense oil.
- one, 2 oz dark green glass bottle with spray top.
the lotion bar
Description: Our super luscious dry lotion bar is intended to protect and smooth over any dry, cracked areas of skin that can leave the body open to infection. With a delightfully natural scent of honey + cocoa, the lotion bar contains no artificial fragrances and is 100% truly natural. It is hand-mixed, poured and molded to fit nicely in one's hand and to rub on smoothly with a "not-too-greasy" finish. We especially love it for elbows, heels and cuticles.
Ingredients: 100% natural beeswax, organic virgin coconut oil, organic cocoa butter, and vitamin e.
- one small travel size bar. solid at room temperature. does show moisture beads at warmer temps. stores nicely in fridge.
organic tea + raw honey set
Non-GMO and USDA-certified organic laxative and relaxation teas are included in each kit. They are naturally caffeine-free and intended to relieve occasional constipation and to encourage a good night's rest.
Raw honey not only sweetens your tea, but provides a concentrated source of natural health benefits through its high nutritional content, promotion of good bacteria in the intestine and its ability to boost immunity and aid in restful sleep.
- two tea bags + two raw honey sticks.
medical-grade pain-relief sleep mask
Designed by an orthopedic surgeon, this "medical-grade" sleep mask conforms to your face and eyes to block out light and gently massage the eye area. The breathable cotton material is soft on the skin, and sewn in darts leave comfortable room for the eyes and lashes. We include this mask to help with headaches and to encourage rest. For added relief, the eye pillow may be placed in the freezer for a cooling effect without the shock of ice or gel packs.
- one sleep mask
100% pure beeswax candle
The Salve Set candle is handmade using our own locally sourced, 100% natural beeswax. The clean + pure beeswax provides a subtle, but sweet honey scent and works to purify the air. Unlike artificially scented paraffin candles, beeswax emits negative ions when it burns. The negative ions are released into the air and effectively reduce dust, dander and mold, thereby making the air you breathe more healthy and fresh.
-one, 2 oz lidded candle tin. hand-mixed and poured in u.s.a.
organic moisturizing essential oil trio
Description: Set of three therapeutic essential oil moisturizers designed to promote relaxation, circulation, digestion, healing + general well-being. Oils may be used to moisturize the skin, as massaging aids or simply inhaled as aromatherapy. Each oil is simply blended with few ingredients to maximize effectiveness and minimize the potential for irritation. Rich in vitamin E + linoleic acid, we use 100% USDA-certified organic sunflower oil as our base. It contains powerful antioxidant, anti-inflammatory and intense moisturizing properties.
Ingredients:
Calm - Proprietary blend of organic sunflower oil + organic lavender + lemon essential oils.
Circulate - Proprietary blend of organic sunflower oil + organic bergamot + sandalwood essential oils.
Soothe - Proprietary blend of organic sunflower oil + organic frankincense + orange essential oils.
- set of three, 0.5 fl oz dark green reusable glass bottles.
himalayan salt massage + stress rock
Description: Known in the Himalayas as "white gold," Himalayan salt contains the same 84 natural minerals and elements found in the human body. Maturing over the past 250 million years, the salt was created with zero exposure to toxins and impurities. The healing benefits of Himalayan salt rock massage include deep relaxation, reduced inflammation and improved sleep. We suggest using the rock as a massage tool along with one of the essential oils provided in your kit, as a grounding instrument to place on the abdomen, or as a stress and tension reliever when simply rolled around in the hand.
- one, 2 inch round pure himalayan salt rock.
yoga cards + resistance band
Description: Designed by a professional yoga instructor with major in-hospital credentials, our five-step yoga routine is provided to encourage simple and gentle exercise that can be done in bed, or sitting in a chair. The movements may be practiced throughout the day, at one's own pace. They are designed to help prevent deep vein and lungs clots, keep the body active, and help manage any stress or anxiety. A resistance band is included with the cards and may be used to assist with the stretches. Also, an instuctional video illustrating each movement is available on our website using the password provided in your kit.
*resistance band contains latex
*for more on our yoga routine designor please visit https://www.linkedin.com/in/morgan-mcdonald-6114aa7/
our beeswax
Our handmade lip balms, lotion bars and candles are all handmade using locally sourced, 100% pure natural beeswax. We gather the wax in its raw form, hand clean it using nothing but paper towels and then mold it into the bars shown above. Using melted wax from the clean bars, we mix our lip balm, lotion bar and candle formulations using 100% organic ingredients. Finally, each lip balm, lotion bar and candle is hand-poured, packaged and lovingly placed in it's Drew Box.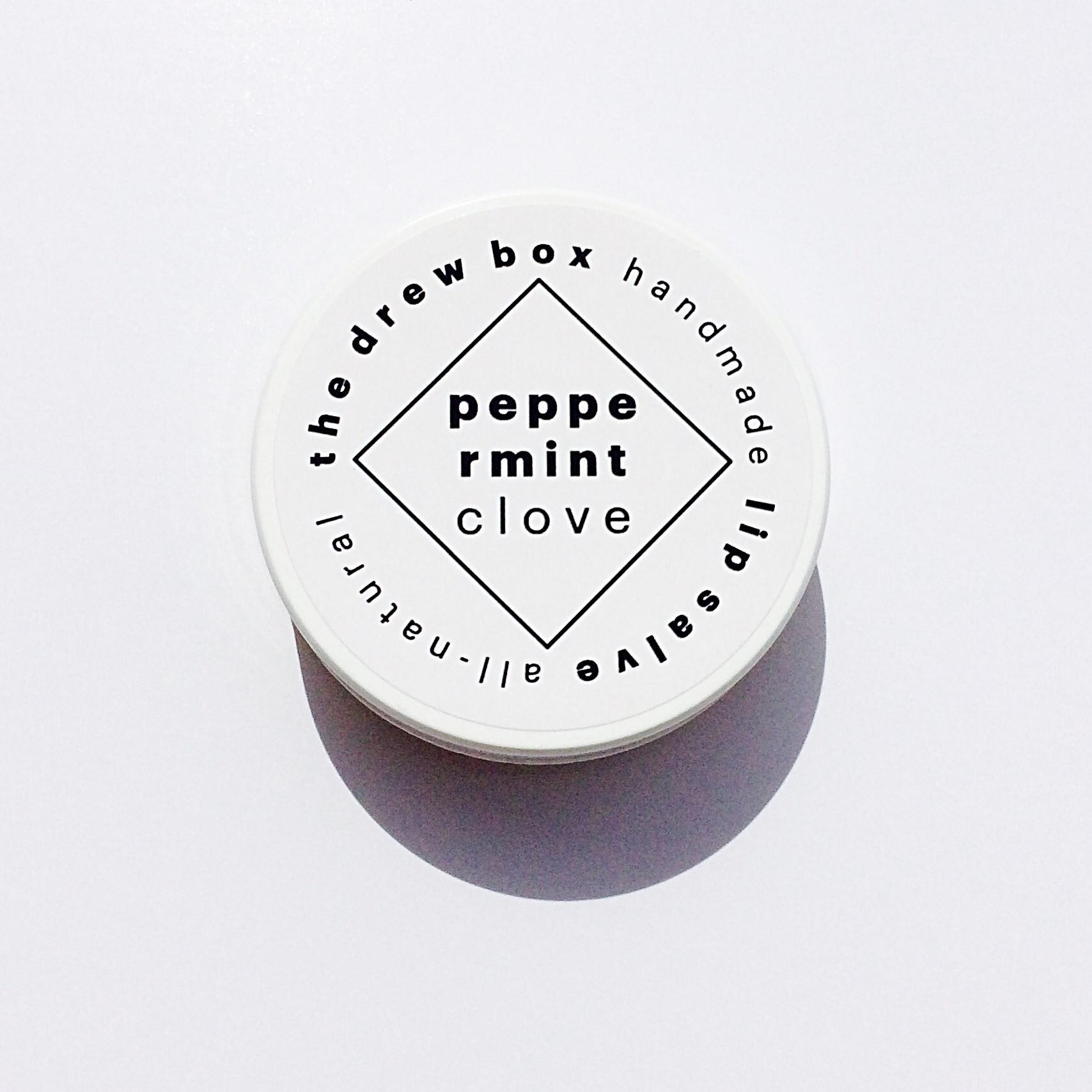 hydrating lip balm
Description: A delicious and nourishing 100% organic lip balm formulated to soften, hydrate, and protect. Great-tasting combination of raw honey, sweet almond, and coconut with lovely hints of peppermint and clove. Each lip balm is hand-mixed and poured in our studio and retains the beautiful, naturally occuring pale yellow shade of our locally sourced beeswax.
Ingredients: Organic sweet almond oil, 100% natural beeswax, organic virgin coconut oil, organic shea butter, organic peppermint and clove essential oils.
one, 0.5 oz pot.